What is Brateck TV Wall Mount Adapter Used For
Brateck is a company that specializes in producing various mounting solutions for TVs and other electronic devices. The Brateck TV Wall Mount Adapter is designed to serve as an accessory or adapter for their TV wall mounts. It's used to extend compatibility between the TV wall mount and your TV, especially when your TV has a different VESA (Video Electronics Standards Association) pattern or size compared to the TV wall mount.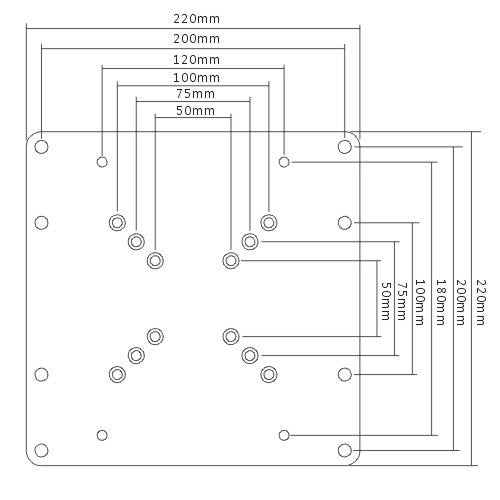 Here's how it works:
VESA Compatibility

: TVs and wall mounts typically have VESA patterns, which consist of a standardized arrangement of mounting holes on the back of the TV. These patterns are specified by a set of measurements, such as 100x100, 200x200, etc. The Brateck TV Wall Mount Adapter may have a different VESA pattern than your TV, so it allows you to bridge the gap between the two.
Compatibility Extension

: By attaching the Brateck TV Wall Mount Adapter to your TV, you can then connect it to a compatible Brateck TV wall mount that might not have originally supported your TV's VESA pattern. This adapter effectively makes it possible to mount your TV on the wall using the Brateck wall mount.
Secure Installation

: The adapter is designed to securely hold your TV in place on the wall mount, ensuring stability and safety.
In summary, the Brateck TV Wall Mount Adapter is a useful accessory for those who want to mount their TV on the wall using a Brateck TV wall mount but have a TV with a different VESA pattern or size. It helps bridge the compatibility gap between the TV and the wall mount, allowing for a secure and stable installation.
Where to Buy It
TecnoTools being a supplier of Brateck products in Australia means that customers in Australia can purchase Brateck TV wall mounts, adapters, and other mounting solutions through TecnoTools. This can be convenient for consumers and businesses looking for Brateck products, as they can source them locally from TecnoTools, potentially saving on shipping costs and ensuring quicker delivery.
Customers in Australia interested in Brateck products can likely find a range of options through TecnoTools, including various TV wall mounts, monitor stands, projector mounts, and other mounting accessories to suit their needs. It's always a good idea to check TecnoTools' website or contact them directly for the latest product availability and pricing information.