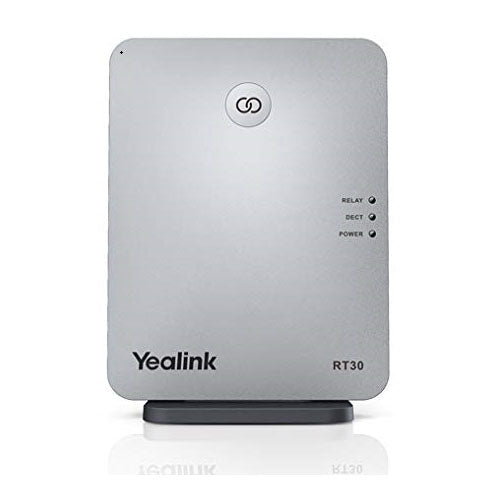 Yealink RT30 DECT Phone Repeater. Up to 6 repeaters per base station, cascade up to 2 repeaters, compatible with W60B
Yealink DECT repeater RT30, designed in accordance with Digital Enhanced Cordless Telecommunication (DECT) standard, is characterized by easy installation and a user friendly display concept.
The repeater can be deployed to extend the DECT radio coverage of Yealink W52P/W56P/W60P base station significantly in all directions, and it supports two RT30 cascaded. Signals with clear status LED display are exchanged without acoustical and visual differences. What's more, its elegant design and easy installation are typically suitable to be used in the ambiance of modern business environments.
• Compatible with DECT CAT-iq 2.0
• Compatible with Yealink W60B DECT IP Base Station
• Up to 6 repeaters per base station
• Star connection
• Up to 2 repeaters can be arranged in cascade
• Auto association
• Support HD voice calls
• Plug & Play setup
• Clear status LED display
• Elegant Design
• Wall Mountable