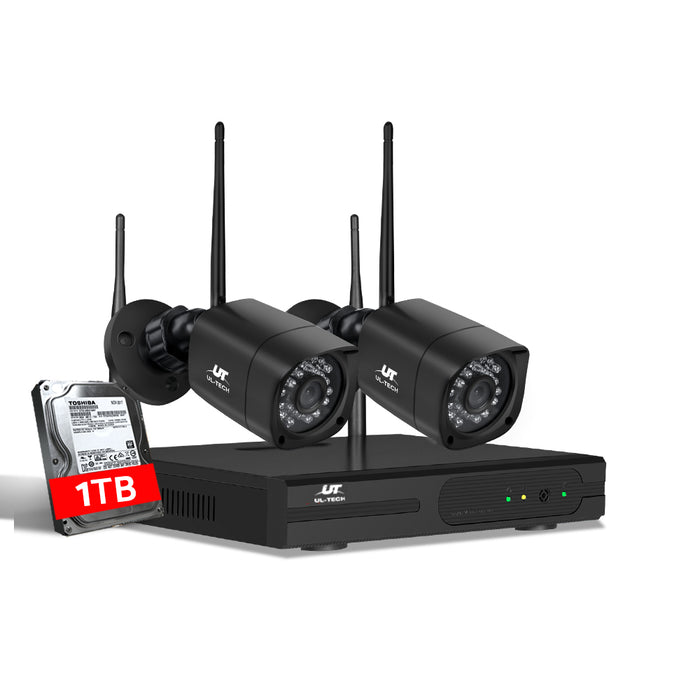 UL-tech Home Outdoor CCTV Wireless Security Surveillance Camera System with 1TB hard drive
Motion detection of up to 192 areas. Infrared night vision within a 20m radius. Massive 1TB to 4TB HDD for up to super long time of recording. A camera resolution of 1080P HD for live and recorded video that is supremely better than the usual 720P used in most DIY home security systems. The UL-Tech CCTV 1080P 4- channel or 8-channel Wireless CCTV Security System is simply one of the best home surveillance systems that you can get in the market today. No more cumbersome cords or wiring. Just plug in and you are good to go.
Utilizing the latest security monitoring technology, our weatherproof CCTV system is designed for both indoor and outdoor use and features record, playback and search modes. The high resolution makes it easy to identify facial features, license plates and clothing patterns. With its huge hard disk storage, the system enables you to review your recordings even from quite a while back. Your data will be also be protected from any power outage.
The CCTV System supports P2P technology for effortless link to the internet, and the 5-in-1 DVR has video outputs via VGA and HDMI. Better still, you can access the System remotely through your smartphone or mobile device to view, capture and record with the free app and an instant email will be sent to your account if any unauthorized motion is detected. You can also customize the motion detection so that the camera will only be activated when motion is detected.
*NVR connect Internet via wire.
So come your next vacation or anytime that you're not home, it's good to know that the UL-Tech 1080P CCTV Security Camera is your all-seeing eye on your property every single moment of the day and night. Install one today for total peace of mind.

Features
1080P HD
4 Channel 1080P Wi-Fi NVR with 2 wireless cameras
Support P2P technology
Wireless connection, real plug and play
High efficiency H.265 video compression
High resolution cameras with Built-in IR-cut
Remote access
View on phone or computer by logging in free app
Customizable motion detection
Instant E-mail alarm
HDMI and VGA outputs
Indoor and outdoor use
Support USB backup and storage
Data protection when power outage
Support 4 channel simultaneous live viewing via smart phone
Support Capture and Record in your smart phone
Support Cloud System for Remote Access/Support HDMI Output
Easy to install
Bonus RRP$199 1TB hard drive and USB mouse

Specifications:
Refer to gallery for detailed specifications.

Package Content
2 x 720P Wireless Square Camera
1 x 1080 4CH wIfI NVR
1 x12V/2A NVR Power supply (cable 1.2m)
2 sets x 12V/1A Camera Power supply (cable 1.2m)
2 sets x Mounting Screws
1 x 1M network cable
1 x USB mouse
1 x 1TB hard drive
1 x User Manual