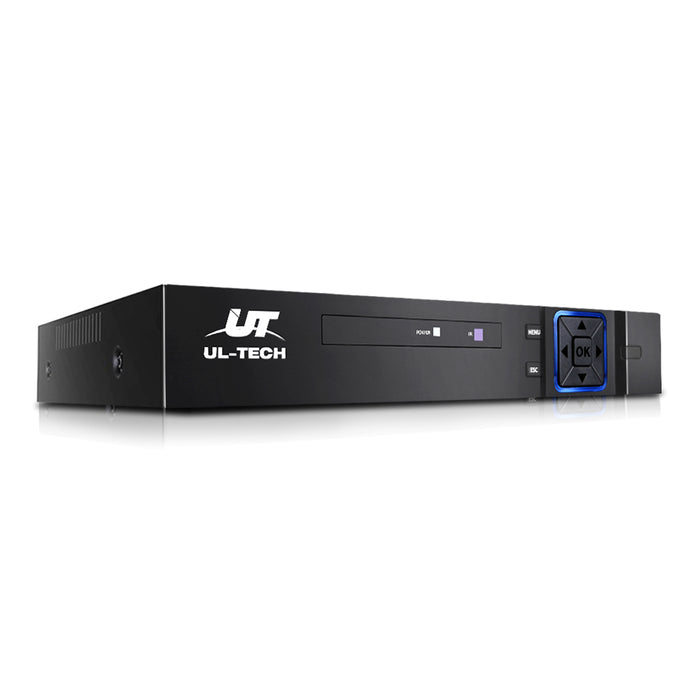 UL Tech 8 Channel CCTV Surveillance Security Video Recorder
Searching for a smart DVR to complement to your CCTV system? Look no further than the UT UL-Tech 8-channel DVR. An innovative 5-in-1 1080N DVR that is packed with the latest technological features to make close circuit surveillance effective and efficient.
The DVR supports a number of camera technologies including AHD, TVI, CVI CVBA and IP camera as well as P2P technology. The unit can be assessed remotely and comes with customisable motion detection capability that allows live viewing on your smartphone or desktop computer. It can also be made to send out an email alarm to your devices in the event of unauthorized entry into your home or facility. Better still, all the events can be recorded smoothly and the smart playback makes locating incident clips fast and easy.
Behind the unit, there are HDMI, VGA and USB outputs for versatile connectivity and the DVR is also compatible with cloud technology. Not least, all your recorded data is safely protected when power outage occurs. Included with your purchase are all the accessories for a quick set-up with minimum hassle.
So come your next vacation or anytime that you're not home, it's good to know that UT UL-Tech 8-channel DVR is working brilliantly in keeping your CCTV system functioning to maximum efficiency.
Note: This product require a Hard Drive (not included) to record the video
Features:
8 Channel 1080N 5-in-1 DVR
Supports AHD, TVI, CVI, CVBS and IP camera
Support P2P technology
Remote access
View on phone or computer
Customisable motion detection
Instant E-mail alarm
HDMI and VGA outputs
Support USB backup and storage
Data protection on power outage
Support 8-channel simultaneous live viewing via smart phone
Support Capture and Record in smart phone
Support Cloud System for Remote Access/Support HDMI Output
Bonus USB mouse
Product Contents:
1x 1080N 8CH DVR
1x 12V/2A power plug
1x USB mouse
1x user manual
1x 1m network cable
1x mounting screws pack