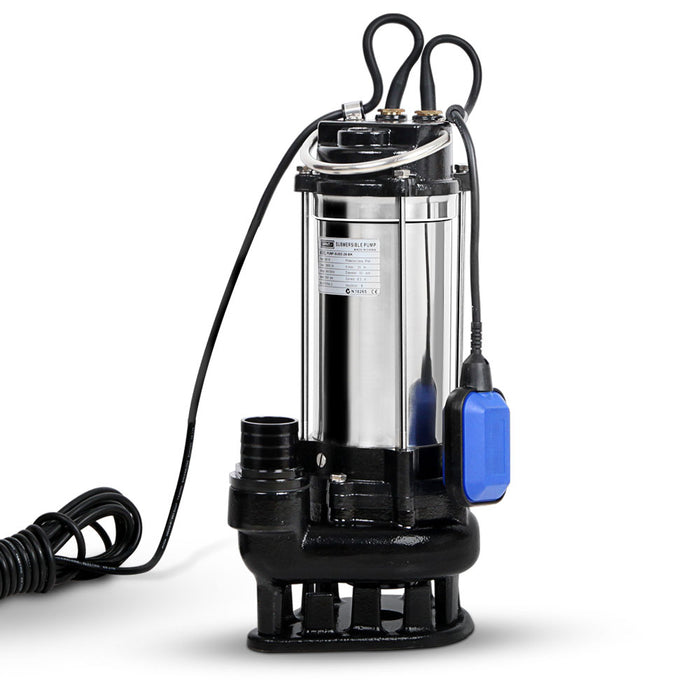 2.7HP Submersible Dirty Water Pump
28,000L/H Submersible Pump
This GIANTZ submersible water pump is ideal for draining flooded areas or emptying water tanks, pools and spas. The powerful 2000W motor enables the pump to create a maximum head of 25 metres while being submerged, which allows the pump to carry the water to wherever you need.
Suitable for both clean and dirty water, it is capable to handle solids up to 1.5cm wide. Made to last, stainless steel body with rust proof and leak proof seal are not to be missed. Also comes with thermal overload protection that protects internal components with automatic shut off when operating temperatures are exceedingly high.
Comes with fully automatic float switch and 10m highly conductive copper cable, we made it to ensure your job is not harder than it is already.
Features
* GIANTZ 2000W 28,000 L/H Submersible Pump
* Adjustable automatic float switch prevents dry running
* Heavy Duty Steel Handle
* Stainless Steel, Rust Resistant Casing
* Leak Proof Ceramic & Carbon Seals
* Powerful Motor with 25M Head
* Robust Cast Iron base
* 2 Inch Outlet handles solid up to 1.5cm
Specifications
* Power: 2000W
* Maximum Flow: 28,000L/H
* Maximum Head: 25m
* Inlet/Outlet: 2 inch
* Cable: 10m (copper)
* Seal: Ceramic/ Carbon
* Pump body: stainless steel
* Base: Cast iron
* Shaft: Stainless steel
Package Contents
1 x Submersible water pump