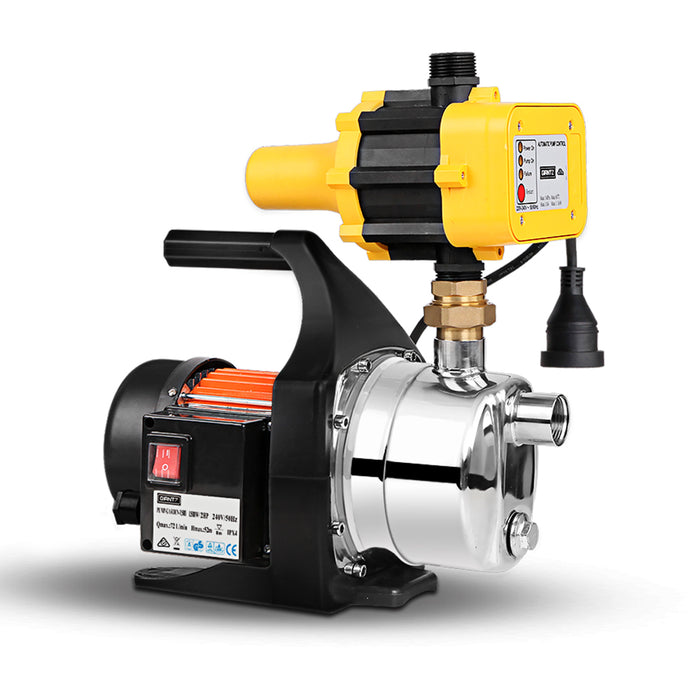 Giantz 1500W High Pressure Garden Water Pump with Auto Controller
Giantz Stage 1500W High-Pressure Garden Water Pump Tank Rain Farm Irrigation
Made from durable stainless steel and alloy, this garden pump is the perfect water pump for your home and garden. It is ideal for connecting your rain tank or to irrigate your garden. This pump produces 72L/min makes it effortless in irrigating the garden or veggie patch. The pump has overheat and overload protections; makes it very safe to use.
Incorporating both hydraulic and electronic components, the Automatic Pressure Controller is capable of simultaneously detecting both pressure and flow, and using this information, it is able to control and also protect the pump against abnormal running situations. This automatic pressure controller will provide you with a perfect control of your household pressure pumps. Suitable for various pumps such as jet pumps, stage pumps and garden pumps, this amazing electronic pressure controller is your reliable working partner. Having it designed separately, it'll be easier to change and store in the future as well.
While having higher watts pump will pump up plenty of water, it will also pump up your electric bills! Using our 1500 watts pump, it is cheaper to run and will still supply plenty of water.
Features
Garden Pump
CE/GS/EMC approval
Durable stainless steel body
Lightweight and portable for ease of use
Sturdy vibration resistant pump base
Forced air cooling motor
Waterproof power switch
Built in dry run & thermal protection switch
Fully automatic pump controller
Rust-resistant coated motor housing
Suitable for parks, tanks, vegetable patches and gardens
Simple installation required
Australian safety standard
Automatic Pressure Controller
Automatic electronic water pressure controller
Maintains stable water pressure and flow
Provides steady performance of the pump
Requires low maintenance
Light indication for operation
Convenient connection design
SAA certified plug and socket
Suitable for jet pumps, garden pumps and water pumps
Specifications
Garden Pump:
Body material: Stainless steel
Shaft material: Carbon steel
Hosing material: Stainless steel and alloy
Mechanical seal: Ceramic/carbon
Voltage: 240V
Frequency: 50Hz
Maximum input power: 1500W
Maximum head: 52m
Pump rate: 72L/min or 4,320L/H
Suction height: 8m
Pipe outlet diameter: 1"" (25mm)
Protection: IP44
Insulation Class: B (130°C)
Automatic Pressure Controller:
Voltage: 220/240V
Frequency: 50/60Hz
Protection grade: IP65
Maximum current: 10AMP
Maximum operating temperature: 60 degrees
Maximum working bar pressure: 10 bar
Inlet and outlet size: 1""(25mm)
Colour: Yellow
Package Content
1 x Garden Pump
1 x Controller
1 Set x Assemble Accessory
1 x User Manual