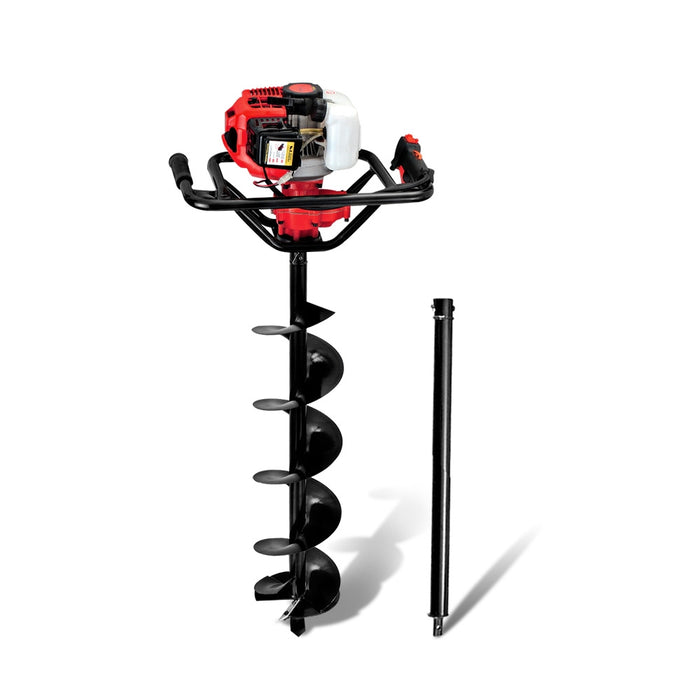 Giantz 92CC Petrol Post Hole Digger Drill Borer Fence Extension Auger Bits
Say good bye to backbreaking manual post boring and digging and welcome to the technological breakthrough GIANTZ 92cc Petrol Post Hole Borer/Digger.
The GIANTZ Post Hole Borer/Digger is geared up to do simple post boring as well as serious deep hole boring. Its class-leading 92cc 3kW 2-stroke petrol engine revs up to 9000rpm to get your hole dug out with precision and ease. The advanced vertical gearbox design also allows for better efficiency and reliability with the motor.
Featuring a solid 20mm auger mount, the GIANTZ Hole Borer/Digger allows the reinforced augers and extensions to connect securely to break hard ground with minimum fuss. In fact, you can bore to as deep as 1.8m with 80cm extension pole which is more than suitable for most jobs.
With regard to its operation, the GIANTZ Hole Borer/Digger offers a smooth start with consistent digging/boring power, coupled with quality rubber hand grips for relatively stress-free handling.
So whether you're digging holes for fence posts, decking supports, plumbing or even planting trees, the GIANTZ Hole Borer/Digger is your ultimate borer and digger hands down.
Features:
Exclusive 92CC pro-series model
Heavy-duty sturdy steel construction
Easy start up; fast responsive engine
Advanced vertical gearbox design
Quality rubber hand grip
Easily attach and detach blades
Efficient and reliable
Comes with a mounting kit & a safety pack
Comes with 1 x replaceable blade
Specifications:
Engine:92CC
Engine type: Single cylinder, air-cooled, 2-stroke
Auger material: 65Mn steel
Ignition system: C.D.I.
Rated output power: 3.0KW
Gasoline vs. 2 stroke oil mixture ratio: 25:1
Fuel tank capacity: 1.2L
Maximum engine speed: 9000 ± 500RPM
Auger length: 100cm
Auger size: 200mm
Extension shaft: 80cm in length
Max depth: 1.8M
Product Contents:
1 x 92CC Engine x1
1 x 80cm Extension x1
1 x 200mm Auger x1
1 Set x Mounting Kit
1 Set x Safety Pack
1 x Replaceable Blade
1 x User Manual