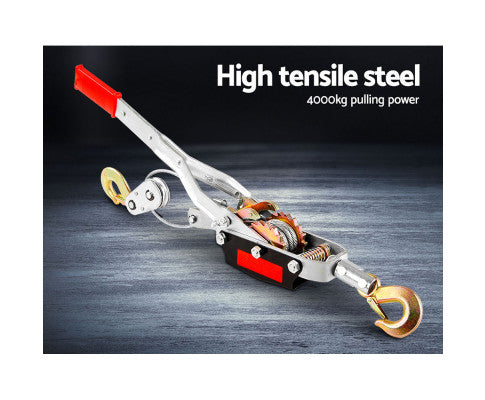 Giantz 4000kg Hand Winch Puller
Made from heavy gauge flat stock steel, the Giantz hand puller winch provides 4000kg of pulling power. Featuring sturdy aircraft grade steel cable and double gear ratcheting gearbox for superior handling and maximum performance.
Providing you the convenience you need whenever you need a hand on loading, removing or tighten any heavy things that you can think of!
Features
Portable hand winch
Great in moving heavy equipments
To tighten fencing
Landscaping such as removing tree stumps or debris
Assist in loading boat on to a trailer
Made of steel constructions - heavy gauge flat stock steel
Standard series - perfect for home mechanic
Drop forged safety catch hooks for heavy loads
360 degree hanging catching hook
Non slip cushion grip handle
Heavy duty aircraft cable
Heavy duty ratchet and pawl
Two-wheel ratcheting gearbox
Specifications
Body material: Flat stock steel
Cable material: Aircraft grade steel
Cable size: Φ5.5mm x 3.3m
Effective distance: 1.2m
Surface treatment: Zincification
Brake type: Ratchet
Capacity: 4 Tons
Weight: 5.50kg
Package Content
1 x Giantz Hand Puller Winch