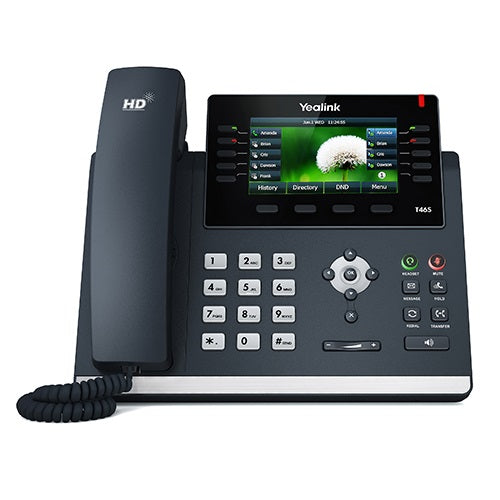 Yealink T46U 16 Line VoIP phone. The Top Phone in the Market
The Yealink SIP-T46U VoIP phone is an ultimate communication tool designed for busy executives and professionals. It is designed to be user friendly, with a modern interface and intuitive features that make it easy to use even for the busiest of individuals. 
The phone combines all the traditional functions of a desk phone, such as making and receiving calls, but also offers customizable features that allow users to customize their experience. For instance, users can access their contacts list quickly and easily, or configure features such as presence information so they know when someone is available for a call. 
Additionally, it has advanced audio capabilities with support for HD voice and wideband audio codecs. This ensures crystal clear sound quality even on long calls. Furthermore, the phone supports multiple simultaneous calls so busy executives can manage their work efficiently without missing out on any important conversations. Let's have a quick look at the main features of this VoIP Phone.
Dual USB ports
The most notable benefit of VoIP phones with dual USB ports is that they allow users to easily connect two different computers or devices at once. This means that both workstations can be used simultaneously without having to switch between them—an ideal situation for multi-tasking professionals who need access to their entire network of contacts and resources! Furthermore, these phones can also support additional features such as video conferencing, allowing users to stay connected no matter where they are located geographically or physically.
Dual firmware images
The primary benefit of this technology is that it enables businesses to manage their VoIP systems more efficiently. Instead of having multiple devices running on different software versions, they can switch between one or the other with a single command. This eliminates the need to buy additional hardware and helps them save money. In addition, it reduces downtime and increases uptime as switching is done quickly and reliably. It also ensures that all features are compatible and up-to-date, giving businesses peace of mind regarding their communication infrastructure
Up to 16 SIP accounts
A VoIP phone with up to 16 SIP accounts offers a number of unique benefits for businesses, from improved cost efficiency to enhanced communication capabilities. 
VoIP stands for Voice over Internet Protocol and is the technology that allows users to make voice calls over an internet connection. By utilizing a VoIP phone that supports up to 16 SIP accounts, businesses can benefit from features like call forwarding, voicemail-to-email, simultaneous ringing on multiple devices and more. Additionally, by using VoIP phones rather than traditional landlines or cell phones, businesses can save money on their telecommunications costs while enjoying high quality audio and video calls at no extra expense. 
Beyond cost savings and improved communication features, another advantage of using a VoIP phone with up to 16 SIP accounts is that it helps companies keep their communications secure.
PoE support
PoE technology makes it possible for VoIP phones to be powered directly from a network port using standard Ethernet cables. This eliminates the need for dedicated power outlets or additional wires, making installation faster and easier. Additionally, PoE reduces clutter by providing both data transmission and electrical power over the same cable. It also helps protect against surges in electrical current that can damage devices connected to the network, by providing an extra layer of protection between appliances and a surge protector or UPS device.
USB headset and EHS support
A VoIP phone with USB headset and EHS support offers a range of advantages for businesses. Not only does it provide users with crystal clear audio quality, but also enables them to use their existing phone system without having to invest in costly new technology. 
The integrated Electronic Hook Switch (EHS) functionality allows remote employees to switch seamlessly between wired and wireless headsets, providing the ultimate flexibility when making or receiving calls. Additionally, connecting a USB headset not only eliminates the need for special cabling but also grants access to advanced features such as active noise cancellation, making conversations clear and distraction-free. 
The benefits of investing in a VoIP phone with EHS and USB headset are numerous. It enables businesses to take advantage of cutting-edge communication technology at an affordable price while improving overall call quality and providing greater mobility for its staff.
USB recording
VoIP phones with USB recording enable companies to record large volumes of conversations quickly and easily. This eliminates manual transcription costs associated with analogue systems; recordings are automatically stored in digital format on the USB drive which can be easily shared between colleagues in different locations. Furthermore, recordings can be accessed remotely via smartphone or laptop giving businesses greater flexibility when it comes to communication requirements.
Bluetooth via BT40/BT41
VoIP phones with Bluetooth technology, such as BT40 and BT41, help businesses maximize their efficiency and minimize their costs. The ability to connect a VoIP phone to a computer or mobile device via Bluetooth helps make the office more efficient by allowing employees to take calls on the move. This helps eliminate downtime when an employee is away from their desk while still being able to answer customer inquiries. 
Using a VoIP system allows businesses to reduce costs associated with traditional telephone lines and long-distance calling fees by utilizing an internet connection instead of traditional telephone circuits. With features like call forwarding, voicemail integration and auto attendant functions as well as quality sound for both incoming and outgoing calls, businesses can ensure that customers are receiving the best possible service at all times.
About TecnoTools
The company is a supplier of Yealink phones in Australia. We offer 12-month warranty and we can ship the product Australia wide. We also week stock in all major capital cities and click and collect is available. 
If you would like to know more about Yealink products, feel free to reach out to our responsive customer service. We are here to help.