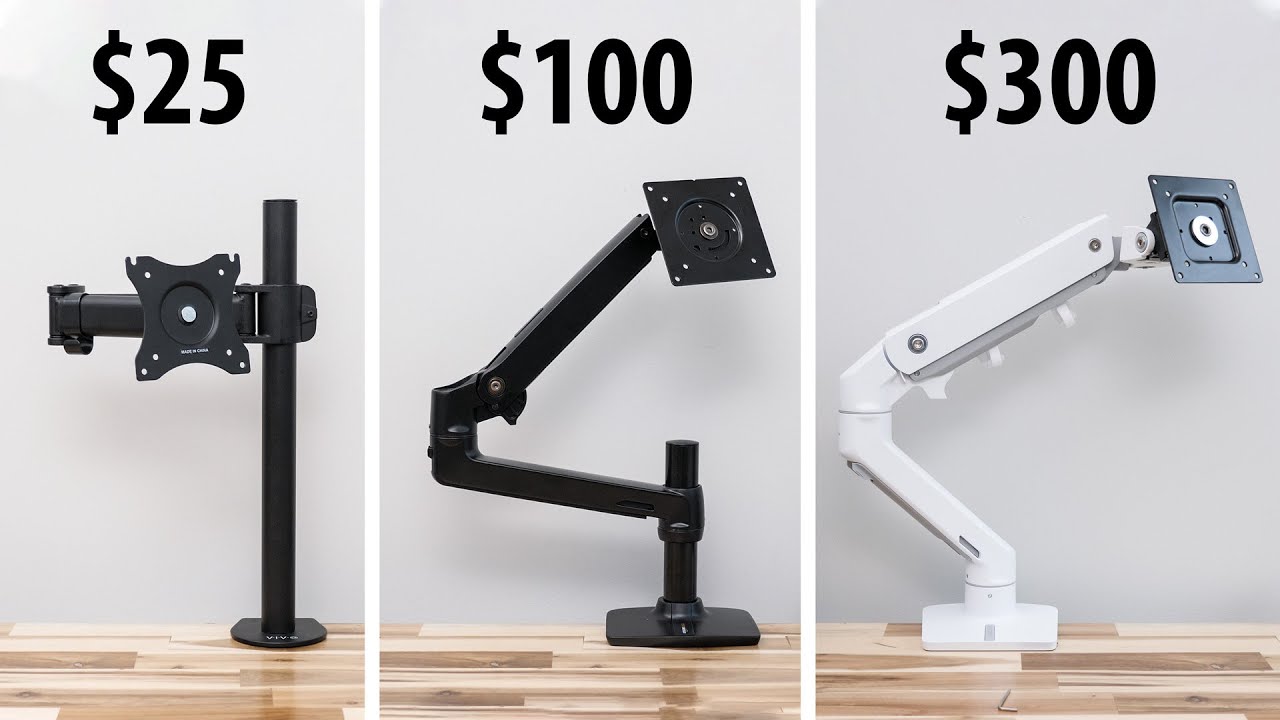 Should I Buy the Most Expensive Monitor Arm?
Being  convinced a monitor arm is beneficial for you is not hard. Office workers spend hours in front of a computer screen, and if the ergonomics are not right, the person will soon feel back pain, fatigue, boredom and all these factors together will cause a decrease in productivity. Apart from that, monitor arms contribute to a nice and tidy workstation; but when you decide to purchase a monitor arm, you can easily be overwhelmed by the variety of models, brands and features in the market today. You will find "fancy shops" charging very high prices claiming their products are superior.
Price should not be a key factor for you to decide which monitor arm to buy. Overprice does not always mean better. That being said, the most economical option is likely to lack important features and have low quality manufacture standards.
So, which monitor arm should you buy? How to evaluate if the product is the right one for you. How to decide? This article has the intention to answer these questions and help you to make a decision and get the best benefit for your money.
Know your needs
You need to ask yourself why you are getting a monitor arm? You have back and neck pain and want to improve your posture while sitting at work? You want to free up some space on the table? Perhaps you are a gamer and want to hook up two, or even three monitors side by side to enlarge your gaming view. Whatever the motivation to start using a monitor arm might be, you need to know it. It will make the search for the right product way easier. Let's go through the most common reasons.
Ergonomics: This is, by far, the most common reason someone could possibly want to use a monitor arm. Keeping your body in the right posture while you work many hours per day in front of a computer is extremely important. Even though the vast majority of monitor arms are ergonomic friendly, you probably want to invest in something that is highly adjustable, so you can find the correct height, position and viewing angle.
Space Optimization: If the main goal is to free up space in your workstation, you probably want to use a monitor arm that is clamped on the desktop, or even mounted on the wall. Monitor stands are placed in the middle of the desk and take a lot of space. Clamped arms are attached on the edge of the tabletop, so you have all the space in the desk for yourself. Monitor wall mounts do not use the tabletop at all. It is also a great way to save space if your workstation is close to a wall.
Sit and Stand Desk: Instead of sitting down all day at work in front of a computer, more and more office workers are adopting sit and stand desks, or sit and stand converters. The desk is supposed to be strong enough to hold a monitor weight. However, if you use two monitors, the desk might not be able to carry the weight. For that application monitor arms for sit stand desks are available. The main pole will be long enough to place the monitors in different heights.
Multiple Monitors: If you have 2 or more monitors, a monitor arm is a must. Usually the maximum number of screens a good brand of monitor arm will hold is four. However, if you need more than four screens, you can alway combine more than one mount. This is particularly useful in surveillance and traffic control rooms, where the user monitors multiple screens at the same time.
Make the Best of It

Since you have made a decision of acquiring a monitor arm, make the best of it and think about using accessories that will make your day at the office easier. It might be an accessory that you have not thought about yet, just because you never used it. However, once you have it, you cannot live without it.
Cable Management: When using a monitor arm, the screen is elevated. Different models will elevate the screen in different heights, but it will be above the desk level. Inexpensive mounts do not have cable management features, so all the cables connected to the monitor will be exposed; and worse, because the screen will be elevated it will be easy for everyone in the office to see the cables. You definitely do not want that!
Keyboard or laptop tray: If you want to make the best of ergonomics, being able to place the monitor in the correct position is not enough, being able to also adjust the keyboard position is; and for that you need to use a monitor arm and keyboard tray. This will give you a fully customized and flexible monitor mount.
Rail mounts: This option should be used when you want to keep the monitor completely off your desk, but cannot mount it on the way due to the position of your workstation. Rail mount monitor arms are common in financial and health facilities where multiple monitors must be installed at the same time.
Final Thoughts
Do not let fancy and overpriced monitor mounts convince you they are the best for you. Know your requirements, check the space you have available and pick the best cost benefit for your circumstances. 
TecnoTools has a comprehensive range of monitor mounts. If in doubt, do not hesitate to contact our responsive customer service. We are here to help.