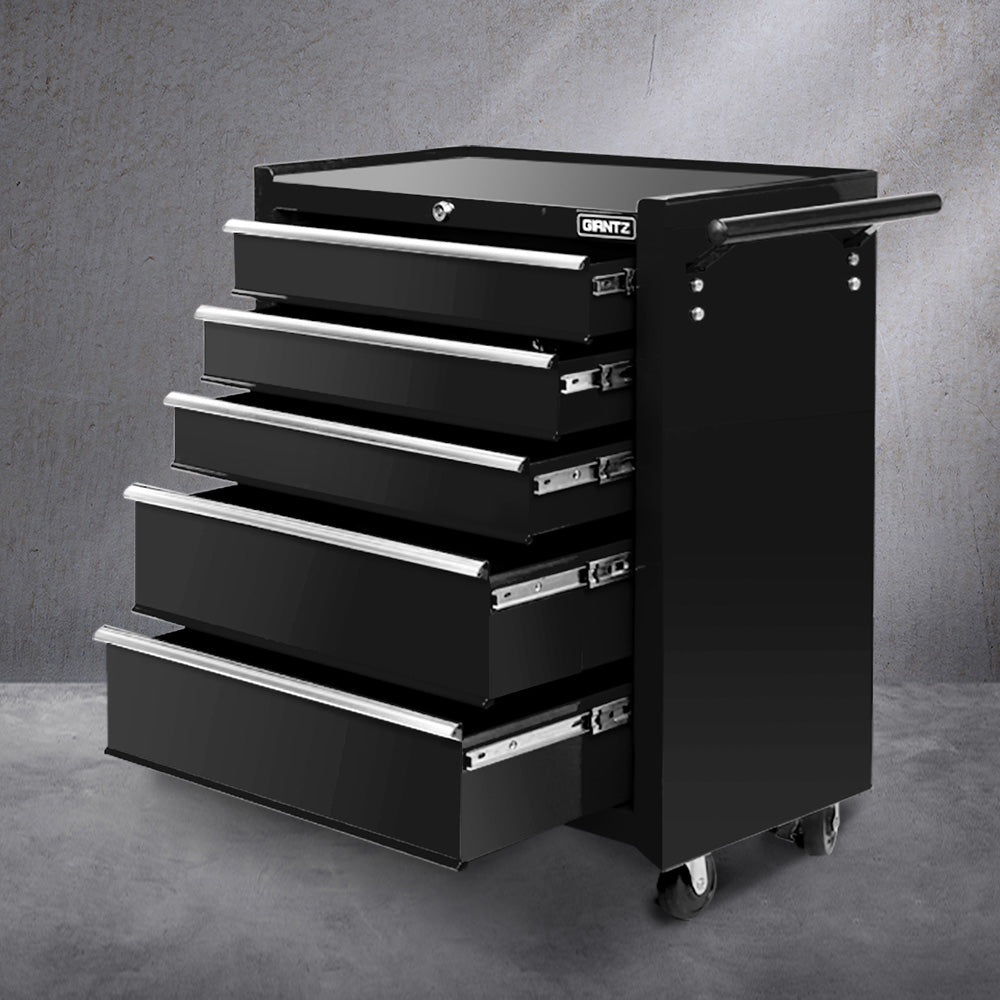 Introducing the Giantz 5 Drawer Mechanic Trolley Tool Box: The Perfect Companion for Every Professional
In the world of mechanics, organization and efficiency are paramount. With numerous tools and equipment required to get the job done, having a reliable and well-designed tool storage solution is essential. This is where the Giantz 5 Drawer Mechanic Trolley Tool Box comes into the picture, providing professionals with a convenient and versatile storage solution that enhances productivity and streamlines their workflow.
Sturdy and Robust
The Giantz 5 Drawer Mechanic Trolley Tool Box is a sturdy and robust storage unit built to withstand the demands of a busy workshop or garage. Crafted with high-quality materials, this tool box is designed to endure the rigors of daily use, ensuring it remains a reliable companion for years to come.
One of the standout features of this tool box is its spacious five-drawer design. Each drawer offers ample room for organizing and storing a wide range of tools, including wrenches, screwdrivers, pliers, and much more. The generous depth and width of the drawers accommodate tools of varying sizes, allowing for efficient organization and easy access whenever they are needed.
Smooth Slide
The smooth glide ball bearing slides ensure that opening and closing the drawers is a seamless experience, eliminating any frustration or delay when retrieving tools. Additionally, the drawers are lined with non-slip mats to prevent tools from sliding around during transportation, providing an extra layer of protection and stability.
Portability is another key aspect of the this trolley tool box. With its built-in side handles and four sturdy caster wheels, moving the tool box around the workshop or garage is effortless. The wheels are lockable, enabling secure positioning and preventing any unwanted movement while working on a specific task. This mobility allows professionals to bring their tools wherever they are needed, saving valuable time and effort.
Durability 
Durability is a crucial factor when selecting a tool storage solution, and the Giantz 5 Drawer Mechanic Trolley Tool Box delivers on that front. Constructed from high-grade powder-coated metal, it boasts exceptional strength and resilience. The rugged exterior protects tools from environmental factors such as dust, moisture, and impacts, ensuring they remain in optimal condition for longer.
The top compartment of the tool box serves as an additional storage area, perfect for bulkier items or tools that require quick and easy access. With its hinged lid, it provides a secure enclosure, keeping tools protected when not in use.
Furthermore, the Giantz 5 Drawer Mechanic Trolley Tool Box is designed with a lock and key system to enhance security. This feature allows mechanics to store their valuable tools with peace of mind, knowing that unauthorized access is prevented.
Final Words
In conclusion, the Giantz 5 Drawer Mechanic Trolley Tool Box is a versatile and reliable storage solution that caters to the unique needs of professional mechanics. With its spacious drawers, sturdy construction, and convenient portability, it streamlines the organization and accessibility of tools, ultimately boosting productivity in the workshop or garage. Whether you are a seasoned professional or a passionate DIY enthusiast, investing in the Giantz 5 Drawer Mechanic Trolley Tool Box is a choice that will undoubtedly enhance your work experience and ensure your tools are always at your fingertips.