5 Essentials UTE Accessories for Tradies
When it comes to car personalization, there is not much you cannot do. The amount of aftermarket accessories that you can have in your car are endless. Some of these accessories are for appearance only, as they do not add any function to the car. However, there are a lot of accessories in the Australian market today that can significantly improve the capability of your car.
In this article we are going to focus on UTE and how they can be modified to help tradies and professionals in general to make most of their cars. You see, a bare UTE from the factory is sometimes - or I should say most of the time - not enough to meet the requirement of certain professionals that need a car to work. 
Canopy Tool Box
When buying an UTE from the factory, all you have is the tray area to store tools and equipment, take loads, consumable material, green waste, or landscape supplies. Whatever you have to move the tray is the only space you have to do so. Depending on what you need the car for, this might not be enough. An electrician will have to carry a large amount of wires, conduit, electrical boxes, motors, circuit breakers, etc. He needs a designated space for all his gear and consumables necessary to get the work done. He needs a canopy tool box, where we can carry all the tools and equipment he needs.
As the name suggests, the idea of having a tool box on the tray of the car, allows him to have a designated space for different material he needs to transport. These tool boxes come in all different shapes and forms. If the full tray space is needed, there are UTE under tray toolboxes, so it is possible to store the gear under the tray. 
UTE Canopy
Aftermarket UTE canopies are designed to cover the whole area of the tray. It does not have any compartment nor designated area for small or medium size parts or tools. It is a good product to cover the tray and keep it dry, protecting from weather elements, but it is not recommended if you need to transport a large number of tools, as there is nowhere in the tray to secure them properly. 
In fact, a canopy will limit the vehicle to take large and bulky items, as the height of the objects you can fit in a tray fitted with a canopy is quite restricted. I am not saying a UTE canopy is a bad addition to your car, but you need to be mindful of how you want to use the vehicle and what sort of load you would like to carry. 
Custom Aluminum Canopies
When the options in the market are just not enough, you can custom build your own canopy according to your needs. That will give you full flexibility on how to organize the space available in the UTE tray. There are good custom built setups out there, some of them are very impressive. However, you need to be mindful of the cost of your project, as specially made canopies can cost up to five times the price of a standard aftermarket one.
The main advantage of a custom built canopy is that you not only cover the UTE tray, but you can also separe the available area into different compartments and have a built-in generator box, tool box or whatever you want built-in the canopy.   
Hard Lid and Covers
You should not leave the UTE tray uncovered. Within time the interior tends to rust due to the weather elements. A cover is a simple and inexpensive device that can prevent this from happening. There are different covers and lids in the market today. The simplest ones are the vinyl and polyester covers, they are weather and abrasion-resistant, but they are not seal proof and do allow condensation inside the tray.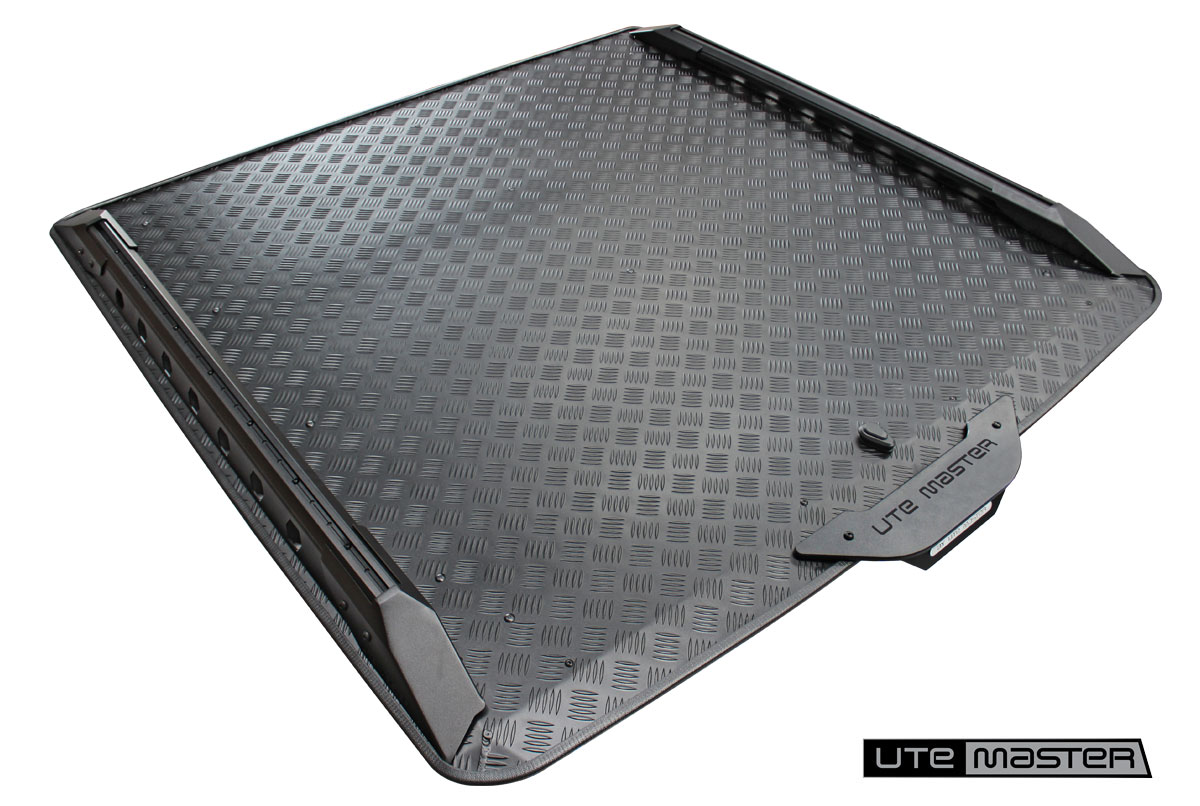 Hard lids are usually made of  lightweight aluminum checker plates and provide a whole range of protection to the UTE tray. Hard lids will enhance the practicality of your tray area and will protect whatever is inside from weather elements. It is seal tight and will not allow condensation. Because the lid is strong enough, you can even carry a load on the top of it. 
Tow Bar
An UTE is not complete without a tow bar. The ability to tow a trailer, RV, or rescue another vehicle stuck in the mud or sand is a must-have if you have a UTE. You might think, I do not need a tow bar, I never tow anything. Believe me! The day will come where you need to tow a trailer for a mate, or even transport a load too big for your tray and need to attach a trailer to your vehicle to complete the task.
The most common type of tow bar in the Australian market today is the tow ball. The tow ball is made with a metal ball with a narrow shaft on the base threaded at the end. Midway down the shaft is a flange that holds the tow ball up from the ball mount at the correct height.
A tow bar is a simple and extremely useful device that every UTE vehicle must have.
Final Words
There are many different accessories available in the Australian market today. These are just the basic ones that will allow the tradie to make a better usage of the UTE. Regardless of that type of job you do, it is likely these accessories will be handy when you need your car for work.